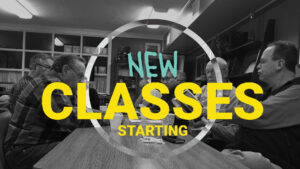 Connect Groups (small groups up to 10 people)
We believe that real spiritual growth happens when we meet with other believers on a regular basis. Connect groups meet in homes during the week to develop relationships, learn more about God and His will for our lives. Even if you've never opened a Bible, it's a great place to ask questions and find out what God says about everyday things.
Jesus formed the original small group. We call them the twelve disciples. Joining a small group is an integral part of implementing our church's Plan for Discipleship, and we believe it's crucial to your personal growth.
Each Connect Group has a personality of its own since each person brings something special to the group. Some groups do in-depth Bible studies while others discuss the weekly sermon and how to apply it in their lives. Groups eat together, fellowship together and serve together.
DIVING DEEP INTO THE BIBLE
Join this ongoing Sunday school class via zoom on Sunday mornings at 8:45am. Led by Amy Bosworth. They are digging into the stories of Paul, Barnabas, Timothy, Philemon, James the Lord's brother and Jesus (this will include his life, his teachings, his fulfillment of the Old Testament, his fulfillment of prophecy and so much more). Join at anytime! You just need a bible. Send an email to Amy at amy.bosworth64@yahoo.com if you are interested in joining.
FOOD & FAITH ZOOM CLASSES THIS SUMMER
Looking for a fun thing to do this summer? Join us on Wednesday nights for a zoom mini cooking class followed with a discussion on a variety of topics. Build your culinary skills along with your faith! Our first class is coming up on June 9th @ 6:30pm. Our featured chef is Demora Holcomb and she will be teaching us how to make Whipped Coffee. Register to get a grocery list and the zoom link! Text COFFEE to 937-563-4593 to register. You can also go Facebook Group: Connection + Discipleship for more details.