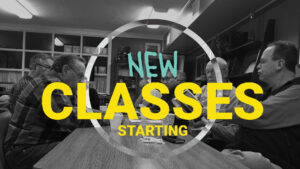 Connecting Points
At Urbana UMC we value growing. We grow together in community with God. One of the ways we do this is through our Connecting Points which include a variety of bible studies, book studies, small groups and care groups. There is one to fit everyone's schedule!
CLASSES
A Disciple's Path – 6 weeks, begins September 15th @ 6:30pm
Deepen your relationship with Christ and the Church. $10 Workbook
Charlie Bosworth, Wednesdays, Curriculum Room & Zoom (hybrid)
Take Back Your Life – 6 weeks, begins September 29th @ 6:30pm
A forty-day interactive journey that will help you identify and fight your internal battles—so you can take back your life. Every person has a mission and a God-given potential to impact the world, whether they recognize it or not. Wednesdays, hybrid Terri McClain $20 book and workbook
I Give Up – 5 weeks, begins September 10th @ 9am
It's normal. It's natural. It's human to want to be in control. But when your need for peace surpasses your desire for control, God–who truly uses all things for our good–demonstrates how much we can trust him. The very act of completely surrendering our will to his can become the one act that will change your life forever. Chris Harmison and Kay Schenkel, Fridays, $13 book, Curriculum Room @ the church
Connect Groups
Hotmess Express – Cliff & Molly Meadows
Sundays at 6pm, Meadows house (talk points), kids welcome
Men – Pastor Jim
Saturday mornings, 7am, Parlor
Families – Chris & Bekah Dinnell
Tuesdays in The Hub @ the church, October 12th – November 23rd




Sunday Classes
Deep Dive – Curriculum Room (hybrid – in person and zoom), 9am
Join this ongoing Sunday school class as they go through the Bible one book at a time. Led by Amy Bosworth. Join at anytime! You just need a bible. Send an email to Amy at
amy.bosworth64@yahoo.com if you are interested in joining.
Scripture the Wesleyan Way – Parlor (hybrid – in person and zoom), 9am
8 weeks, The Bible was central to John Wesley's faith and the Christian movement he founded. In Scripture and the Wesleyan Way, you will discover a Wesleyan approach to the Bible and the Christian life. Terri McClain