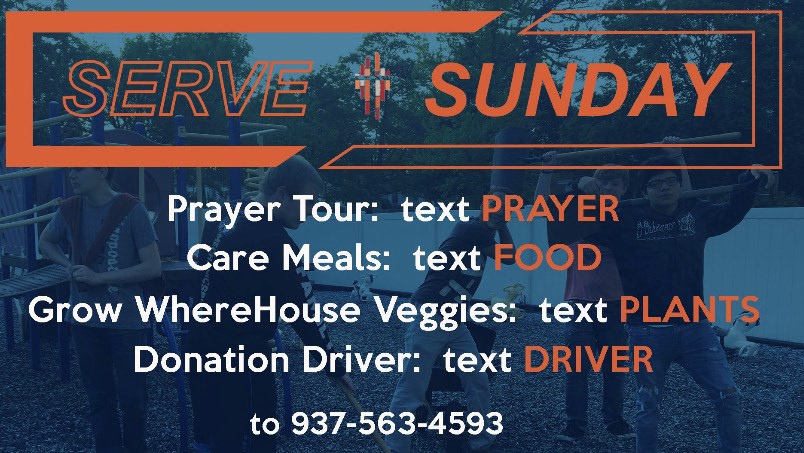 PUT YOUR FAITH IN ACTION!
At Urbana UMC, we believe in helping others, not because they may need it, but because we serve out of love. Serving others ignites our faith and ignites the faith of those we help. Each quarter we provide a few opportunities to reach out and help others. You choose the time that works for you on that Sunday afternoon and we provide the activity!
Mark your calendars now for our 4 Serve Sundays this year:
March 21st, June 20th, September 19th and December 19th.
Sign up by texting the key word in each activity to 937-563-4593
Here are our 4 activities for March 21st.
They are available to do while remaining socially distanced as you serve.
Register for as many as you would like!
Prayer Tour
Text PRAYER to 937-563-4593 to Register or use this link.
This family-friendly prayer drive is social distancing safe and will get you out and driving while you pray over the needs of our community. Download the guide (which will be sent to you), hop in the car and follow the prompts provided as you pray. This prayer drive should take about an hour and is great for anyone, whether you decide to venture out solo, with kids or teens or with a friend.
Care Meals
Text FOOD to 937-563-4593 to Register or use this link.
Cooking for one is hard and it is often tempting to just grab a snack rather than eat healthy! Prepare a meal or a couple meals for a single/widowed person in our congregation. Package in individual portions that they eat or freeze. It's sharing love in a home cooked meal! Once you register, a name will be provided and you can deliver the meal(s) in the afternoon on Sunday, March 21st.
Mini Gardener for the WhereHouse
Text PLANTS to 937-563-4593 to Register or use this link.
Begin vegetable starter plants in your home! Kits will be provided with everything you need: seeds, biodegradable pots, soil, markers and a pie plate to keep them in. After you plant them, nurture them with water, sunlight and prayer. These plants will be given to the WhereHouse for them to bless their clients when they are open in April. Instructions will be provided in the kit!
Donation Driver
Text DRIVER to 937-563-4593 to Register or us this link.
Help others clear out their clutter by picking up their donation boxes – not large pieces of furniture – and take them to Goodwill for them. Having a large trunk or a truck would be helpful. Once you register, locations of pick-ups will be provided. Goodwill is open from 11am – 6pm on Sundays so be sure to pick up your items with enough time to drop them off before they close!