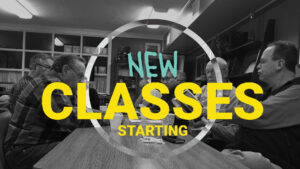 Connecting Points
At Urbana UMC we value growing. We grow together in community with God. One of the ways we do this is through our Connecting Points which include a variety of bible studies, book studies, small groups and care groups. There is one to fit everyone's schedule!
CLASSES
The Wesley Challenge – 21 days to a more authentic faith
4 weeks, begins Tuesday, January 25th @ 6:30pm, via zoom
Spend 4 weeks working through 21 questions that will engage your physical, spiritual and emotional lives and your relationship with God and others. This challenge will inspire you to a new kind of commitment – one that is more authentic, vulnerable and souls shaping resulting in a renewed passion to discover deeper levels of commitment to God and others. Week one will give you a basic foundation of who John Wesley was and why he founded the Methodist Church.
Teacher – Charlie Bosworth, $10 participant book. Sign up by texting WESLEY to 937-563-4593, signing up on the form below or emailing Charlie at
crbosworth55@yahoo.com.
Getting to Know God's Voice
5 weeks, begins Wednesday, January 26th @ 6:30pm via zoom
Does God's voice feel far away or even silent?
Are you familiar with the Trinity but unsure who the Holy Spirit is or how He works?
Join us on a 31 day interactive journey to greater intimacy with God. It's filled with information and practices that will help you be mentored and guided by the Holy Spirit, listen to God speak to you in various ways, overcome obstacles to hearing His voice, and align what you are hearing with the truth of God's Word.
You may not hear a choir of angels or have a chat with a burning bush like Moses did, but you can learn to recognize and respond to God's voice in your everyday life. And when you do, your days will be filled with amazing new possibilities and purpose. You were made for this!
Teacher – Terri McClain, $14 participant book. Sign up by texting VOICE to 937-563-4593,

signing up on the form below

or emailing Terri at

connect2uumc@gmail.com

.
Financial Peace University
Sundays from 6:30-8pm at Urbana United Methodist Church
Planning for the future is hard when you're still paying for the past! Listen—there's a better way! Join our Financial Peace University class, and we'll learn how to beat debt and make a plan for the future together! This 9 week class will meet once a week on Sundays from 6:30-8:00 pm beginning February 6.
Men – Pastor Jim
Saturday mornings, 7:30am, Curriculum Room, located on the main level of the church
Families – Chris & Bekah Dinnell
Tuesdays @ 6:30pm in The Hub, located on lower level of the church
Sunday Classes
Deep Dive – 9am hybrid – in person and zoom
Join this ongoing Sunday school class as they go through the Bible one book at a time. Led by Amy Bosworth. Join at anytime! You just need a bible. Meets in the Curriculum Room at the church or you can join via zoom. Send an email to Amy at
amy.bosworth64@yahoo.com if you are interested in joining.