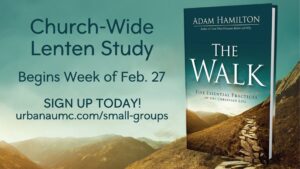 Small Groups
At Urbana UMC we value growing. We grow together in community with God. One of the ways we do this is through our Connecting Points which include a variety of bible studies, book studies, small groups and care groups. There is one to fit everyone's schedule!
Sign Ups for Connect Groups for Lent are starting now! Complete the form below and choose your time.
Examine five essential spiritual practices rooted in Jesus' own walk with God.

How do we walk with Christ―daily follow him, grow in him, and faithfully serve him?

In the Gospels, Jesus modeled for us the Christian spiritual life. The apostles taught it in their writings. And the Church has, through the last 2,000 years, sought to pursue this Christian spiritual life.

In The Walk, Adam Hamilton focuses on five essential spiritual practices that are rooted in Jesus' own walk with God and taught throughout the New Testament. Each of these practices is intended as part of our daily walk with Christ while also being an essential part of growing together in the church.
Sunday Classes
Deep Dive – 9am hybrid – in person and zoom
Join this ongoing Sunday school class as they go through the Bible one book at a time. Led by Amy Bosworth. Join at anytime! You just need a bible. Meets in the Curriculum Room at the church or you can join via zoom. Send an email to Amy at
amy.bosworth64@yahoo.com if you are interested in joining.